The 9th International Conference
on
Algorithmic Learning Theory


Otzenhausen, Germany
October 8-10, 1998
The Conference Site:
The 9th International Conference on Algorithmic Learning Theory - ALT'98 will be held at the European education centre Europäisches Bildungszentrum (ebz) Otzenhausen, Europahausstrasse, 66620 Nonnweiler.

Phone: 06873-6620

Fax: 06873-662-150

Otzenhausen is situated in the central European region Sar-Lor-Lux, not far from Strasbourg and Luxembourg. It's location in the hilly landscape of the Hochwald in the north of the Saarland makes it a meeting place where others spend their holidays.
Getting to the conference site:
Participants from abroad may choose between the international airports in Frankfurt am Main and Luxembourg. If you arrive in Frankfurt, you should take a train to Türkismühle. From there, you can reach Otzenhausen by bus. Attendees travelling via Luxembourg are requested to take a train to Trier or Saarbrücken, and then continue by bus.

Information about the trains running between Frankfurt am Main and Türkismühle as well as between Luxembourg and Trier (or Saarbrücken) is available online.

If you prefer to reach the conference site by car, take the Autobahn A1 and A62, respectively until you reach the teir intersection. Here, you have to take the exit Nonnweiler Otzenhausen (cf. the map below).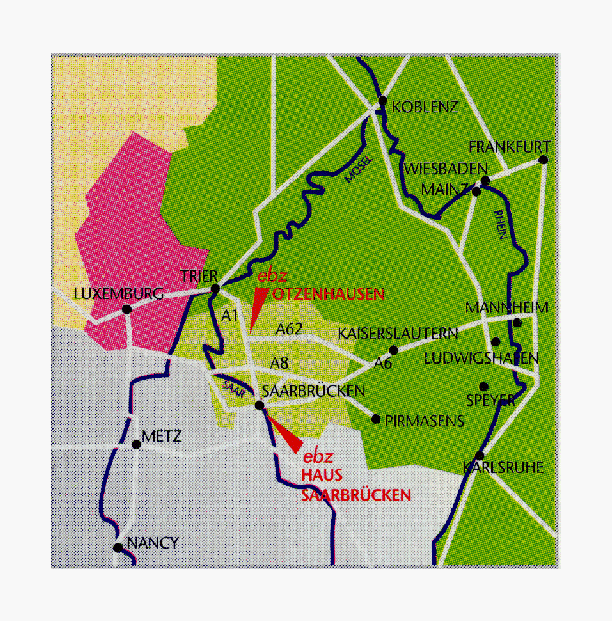 Weather:
Weather in October is usually rapidly changing. It may be still warm and sunny, but it may be also cold and rainy. The average temperature is approximately 15 degrees Celsius.
---